All visitors are invited to draw this oddly shaped model who stands tall over the 'artists' with her right hand questioningly raised in a classical pose. Your result will be on show letting it become part of the work itself.(free). On October 1, Paul Faassen will be giving a life model class (sold out). More information.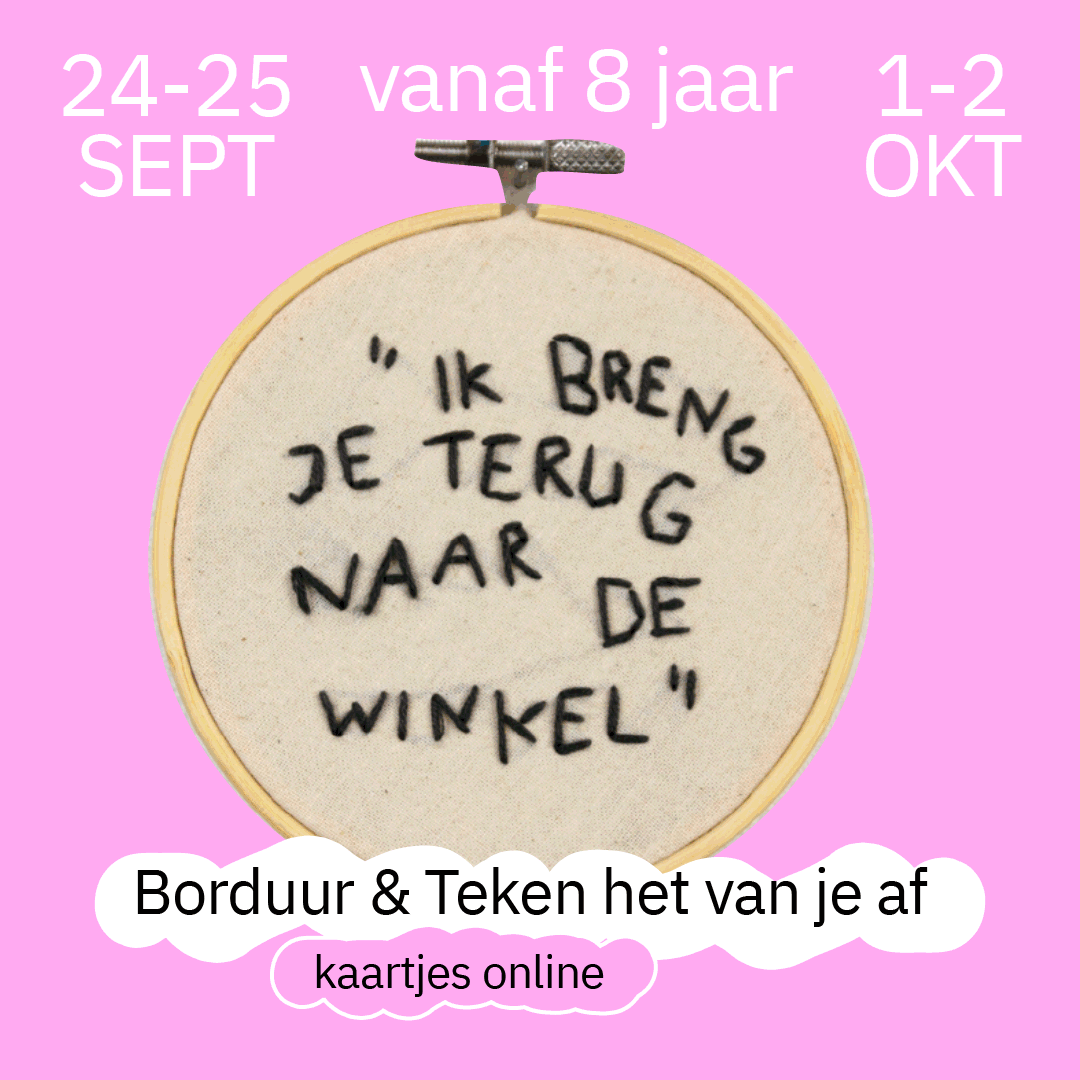 Zit het je hoog en wil je er van af? Teken of borduur een Hartenkreet met Maarten Bel! Meer info.
1 okt. 11.00 - 12.30 uitverkocht
1 okt. 13.30 - 15.00 bestel
2 okt. uitverkocht

8 - 12 jaar 7,50
> 12 jaar 15,00




30 september

Katinka Polderman
kaartje: 10,50 voorstelling + 9,50 tekenshow

bestel



start 20.00 uur
deur open 19.30 - 23.00

Katinka tekent ons leven in diagrammen en geeft een groepsles beslisbomen maken, want wie ziet er nou wel de bomen door het bos?
1 oktober


Rogier Roeters
kaartje 20,-

bestel
start 20.00 uur
deur open 19.30 - 23.00

(10,50 ticket + 9,50 Tekenshow
cjp 2,- korting)


Rogier Roeters duikt graag in die menselijke gevoelens die ongemakkelijk, herkenbaar, beschamend of taboe zijn. Deze avond bespeelt hij het publiek als tekenaar én als goochelaar en wordt het een emo gevoelig avondje uit... of juist niet?!

50 Notebooks have been distributed all over the world, and they wonder what your stories are about this happy, weird, sad, absurd, everyday life. This Tekenshow we will show the results, of those who made it back... We kept some notebooks for the Tekenshow, so come over and become A Perfect Day Notebook contributor. More information.

The Empty Space winner will be announced September 22th!
NDSM, Door Open Space
TT Vasumweg 31
1033 SB Amsterdam

(de grote grijze doos)


google maps
kaartjes
online
en aan de deur verkrijgbaar
Tekenshow
Wo & Do 11:00 - 20:00
Vr & Za 11:00 - 19:30
Zo 25 sept 11:00 - 20:00
Zo 2 okt 11:00 - 17:00
Ma & Di gesloten
Evening program
Vr & Za 20.00 - 23.00
+ Tekenshow geopend